Patek Philippe World Time 18k Rose Gold Watch 38.5mm
SKU: 5230R-001
Mô tả
Chiếc đồng hồ nổi tiếng World Time, rất được các nhà sưu tập và những quý ông thường xuyên di chuyển đây đó khao khát sở hữu. Do đó, nhà Patek Philippe quyết định đem mẫu đồng hồ này trở lại với một số thay đổi đáng chú ý. Đầu tiên, vỏ máy (case) được chế tác từ vàng hồng (Rose gold) hoặc vàng trắng (White gold), được phát triển cẩn thận, kim giờ được thiết kế mới, phản ánh phong cách độc quyền của Patek Philippe cũng mặt số trung tâm được chạm trổ thủ công theo phong cách guilloche. Với mô típ lấy cảm hứng từ một hình mẫu lịch sử từ trong Bảo tàng của hãng.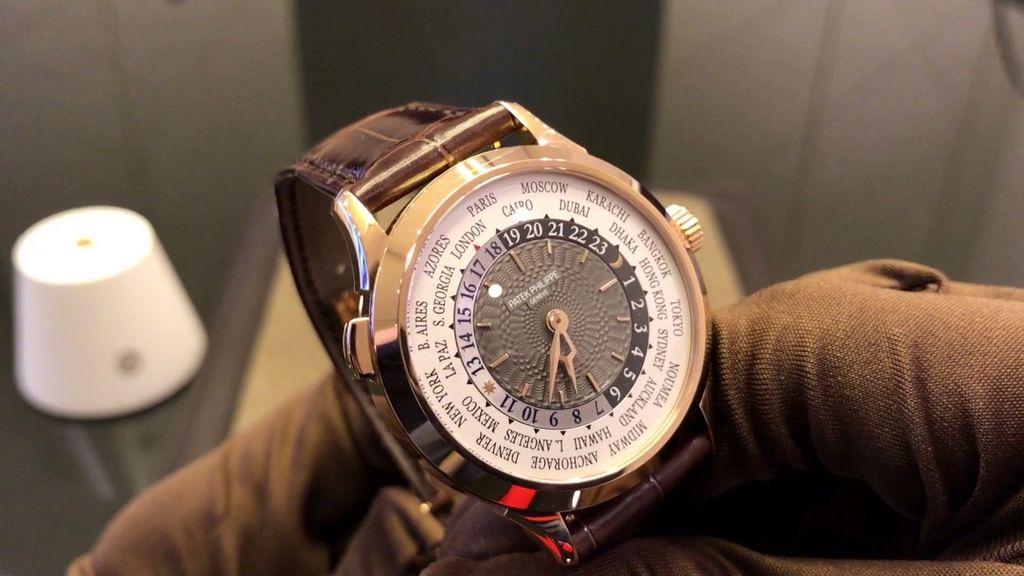 Bộ chuyển động Calibre 240 HU là bộ máy World Time mới của hãng, dao động với 21.600 dao động mỗi giờ, nó có bánh xe cân bằng Gyromax, 33 chân kính và 239 bộ phận, một Roto nhỏ nằm lệch tâm bằng vàng 22k; dự trữ năng lượng 48h.

World Time. 24-hour and day/night indication for the 24 time zones. Dial: charcoal gray lacquered, hand-guilloched, gold applied hour markers. Alligator strap with square scales, hand-stitched, shiny black. Case: rose gold. Sapphire-crystal case back. Water resistant to 30 m. Case diameter: 38.5 mm. Height: 10.23 mm.
24 time zones, day/night indication for the 24 time zones. Diameter: 27.5 mm. Height: 3.88 mm. Parts: 239. Bridges: 8. Jewels: 33. Power reserve: Min. 48 hours. 22K gold off-center mini-rotor. Balance: Gyromax®. Vibrations/hour: 21 600 (3 Hz). Balance spring: Spiromax®. Hallmark: Patek Philippe Seal. Patent: CH 595 653. Patent: CH 693 191.