Patek Philippe Grand Complications 5370P-001 - Split-seconds Chronograph
SKU: 5370P-001
Mô tả
Đồng hồ bấm giờ chia giây là một trong ba Complication khó tinh thông nhất, bên cạnh tourbillon và chức năng điểm chuông báo phút. Phải có một cơ chế cực kỳ tinh vi để điều khiển hai kim đồng hồ bấm giờ, một trong số đó có thể dừng lại để đo thời gian trung gian hoặc vòng đua hoặc giữ thời gian tham chiếu trong khi kim kia tiếp tục tiến trình của nó mà không bị ảnh hưởng, thậm chí chỉ một phần của giây. Khi được thả ra một lần nữa, kim chia giây ngay lập tức bắt kịp với bàn kim chính và hai kim xếp chồng lên nhau di chuyển.
Đây là chiếc đồng hồ Patek Philippe Split-seconds Chronograph Ref. 1436 được bán ra vào năm 1961 bởi nhà kim hoàn Tiffany.
Kể từ đó cho đến gần đây, hãng mới giới thiệu Ref. 5370 tái hiện lại mẫu đồng hồ huyền thoại một thời.
Ref. 5370P-001 trang bị bộ máy cơ học lên cót thủ công, Calibre CHR 29-535 PS. Đồng hồ bấm giờ chia giây (Split-seconds Chronograph). Thang đo tốc độ. Mặt số trắng men đen tuyền. Dây đeo cá sấu có vảy vuông, khâu tay, màu đen sáng bóng. Vỏ đồng hồ bằng bạch kim (Platinum). Mặt kính sapphire. Chống nước đến 30m. Đường kính 41mm. Độ dày: 13.56mm.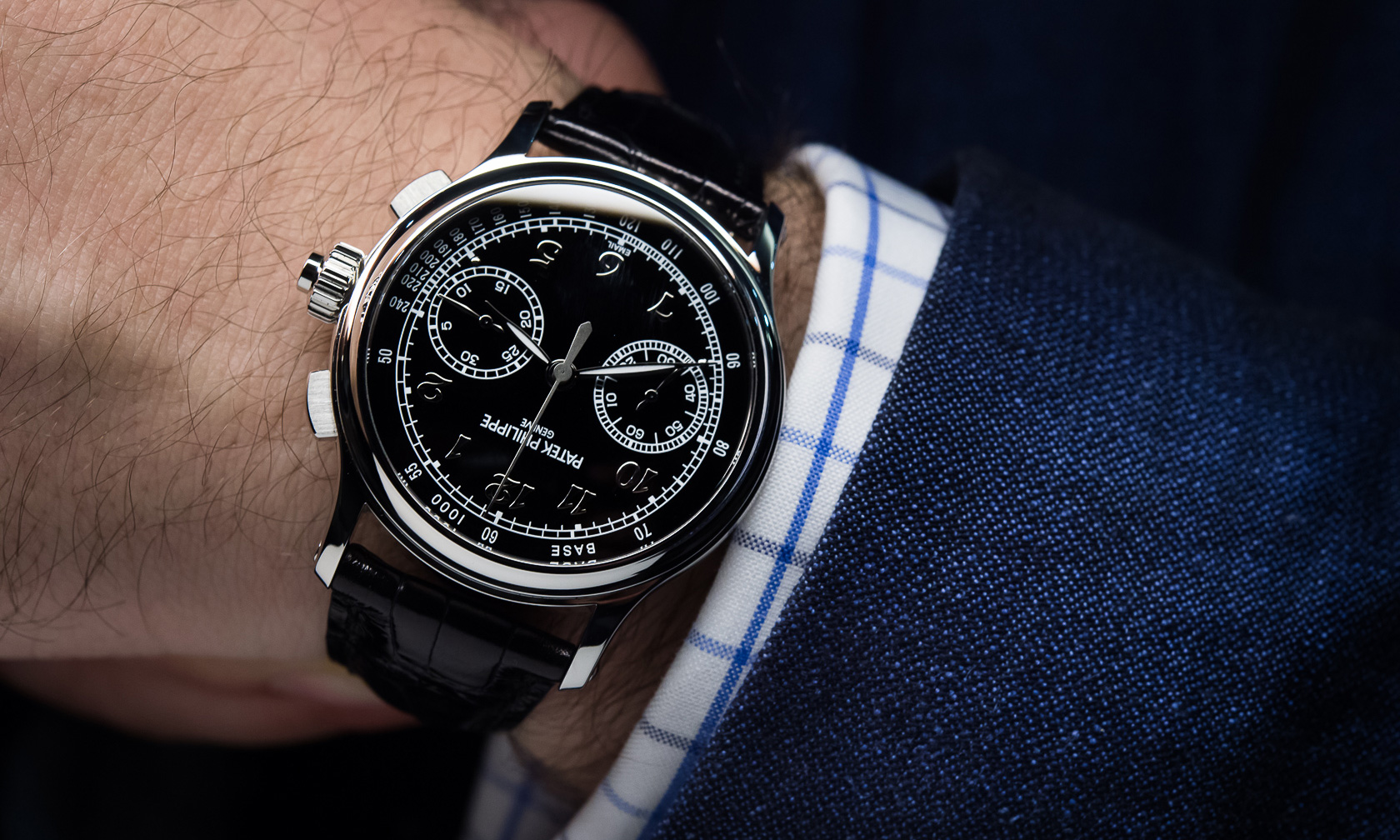 WATCH
Manually wound mechanical movement. Caliber CHR 29‑535 PS. Seconds subdial. Tachymeter scale.
DIAL
Dial: authentic black enamel, gold applied Breguet numerals. 18K gold dial plates.
CASE
Case: platinum. Platinum. Interchangeable full back and sapphire-crystal case back. Water resistant to 30 m. Case diameter: 41 mm. Height: 13.56 mm.
STRAP
Alligator strap with square scales, hand-stitched, shiny black. Fold-over clasp.
Split-Seconds chronograph. 30-minute counter. Seconds subdial. Diameter: 29.6 mm. Height: 7.1 mm. Parts: 312. Jewels: 34. Power reserve: With the chronograph disengaged: min. 55 hours - max. 65 hours. Balance: Gyromax®. Vibrations/hour: 28 800 (4 Hz). Balance spring: Breguet. Hallmark: Patek Philippe Seal.